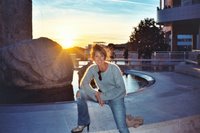 Shari Young Kuchenbecker is a portrait and event photographer in California. She loves capturing moments of genuine joy, shared surprise, anticipation, wonder, and more through her camera lens.
Shari uses all Nikon equipment, and her favorite lens is her AF-S VR Zoom-Nikkor 70-200mm f/2.8G ED-IF. For digital photography, she enjoys using her Nikon D800 camera, and for film shooting, she favors her F4.
Before a portrait session or event, clients may select film or digital photography. Shari creates a website of client's photographs for convenient access.
Contact information and galleries of her recent favorite shoots are listed at right.